Replacement Windows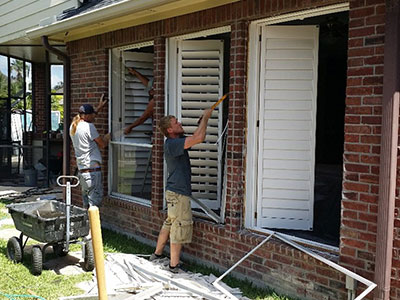 If your home is an older structure, and has wooden or single-paned glass windows that need to be changed, it's important to choose these installations with care. There are a number of replacement windows you can find in the market, but you should conduct a certain amount of research before you decide which windows you want.

These installations represent a significant investment and it's crucial that you check features of different products, their lifespan, energy-efficiency aspect as well as varieties and warranties etc. You also need to ensure that the price you pay fits into your budget and provides value in the long term.

When you want any replacement windows installation, you know you want to hire the services of a reliable and reputed company like Woody's Windows. They serve commercial and residential customers in and around Tomball, The Woodlands, Spring, and Houston. The company also caters to clients across Conroe, Humble, and Cypress; and has handled several projects in and around Magnolia, Katy, and Cleveland.


Replacement Window – Facts
The important factor to keep in view while getting replacement windows is that the company should be able to provide you custom solutions. This is because every structure is different and the window shapes and openings will be different too. This means standard installations won't work in these cases.
The company you zero-in on should be able to provide you these solutions at a very cost-effective pricing.
If you are getting many different windows changed, look for an experienced company that would be able to provide you with all the installations you need.
They should also be able to handle end-to-end design, manufacture and installation as well as removal and disposal of older windows. This is a very specialized job and only a highly experienced and well-established replacement window contractor would be able to provide you the solutions you need.
The company should also be able to provide energy-efficient windows installations. These windows help maintain lower indoor temperatures and reduce the stress on your HVAC system and you end up paying lower utility bills.
You can choose from double-paned or triple-paned glass windows and the argon gas that's sandwiched between the glass sheets provides a good amount of insulation. It helps keep the heat and UV rays out of the indoor spaces.
You should choose from brands such as Milgard, Burris Windows and Cardinal as they offer excellent products and iron-clad warranties.
Get the windows installed from experienced and licensed window installers as that will ensure the longevity of the feature.

When you hire a reputed company for the job, they will handle every aspect of the project and ensure that you are 100% satisfied with the job they have done for you. The windows on your property protect the indoor spaces from the outdoor environment and the elements and you need to be assured that these installed by experts in the field, like Woody's Windows. This ensures the resilience and longevity of the installations and these features add to the aesthetics and value of your property.

"MORE ARTICLES"
Custom Doors
Custom Windows
Doors
Energy Efficient Windows