Custom Windows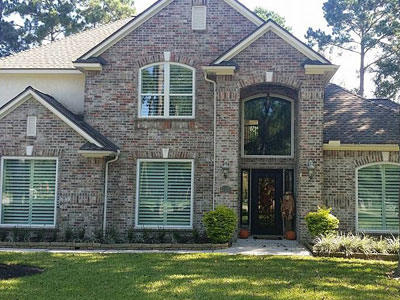 The windows in your home or commercial establishment add to the beauty of the structure, bring in natural light and air and provide protection from the elements as well. When you are building a new home, you take care to ensure that all the installations are of high quality and you use products that will last for a very long time without any trouble. This particular aspect is important to keep in view even when you are getting windows installed.

You know that the resilience and durability of the installation depends on the materials used as well as the contractor you choose for the job; this is why you should hire the services of a reliable and reputed company like Woody's Windows. They serve commercial and residential customers in and around Tomball, The Woodlands, Spring, and Houston. The company also caters to clients across Conroe, Humble, and Cypress; and has handled several projects in and around Magnolia, Katy, and Cleveland.


Different Custom Window Brands
Today there are a number of companies that manufacture window features, but some brands have proven to be extremely resilient and long-lasting. Some of the brands of custom residential window installations you can choose from are:


Burris Windows - This is one of the most reputed brands in the market today that manufactures vinyl doors and windows. Many property owners don't want wood or fiberglass custom windows and these are a great alternative. The company has over three decades of experience and their products are available in a variety of colors and finishes.


Milgard - This well-established company is known for manufacturing energy-efficient commercial and residential windows and has a solid presence in the industry for over 50 years. You will also find products at various price ranges and there is something for every budget.


Cardinal - These products have high energy ratings, are made from top quality materials and come with excellent warranties. They have an impressive variety of glass window products made of insulated glass, laminated glass, float glass, coated glass as well as custom-tempered glass. They are ideal for custom requirements and you can get the finish and styling you want.
Replacement Custom Windows
While it's important to opt for products from good companies, it's also important to hire experienced custom window installers for the job. These companies would be able to install the windows as per manufacturer specifications, which ensure the warranties on the products say intact.

A reputed company also provides guarantees for its work and that is assurance they will tackle the job right the first time around. Aside from handling the actual installation, they will also provide you all the information you need about routine care and maintenance of the custom designed residential windows, and this adds to the longevity of the feature.

The windows on your property protect the indoor spaces from the outdoor environment and the elements and you need to be assured that these installed by experts in the field, like Woody's Windows. This ensures the resilience and longevity of the installations.

"MORE ARTICLES"
Custom Doors